Following a recent remark by Jorgy9, I append the performance curves for the three engines that were introduced with the S2 car. They are not very good quality but were printed from the S2 manual, then scanned to convert them to jpg format and finally copied to photobucket. Afraid I have no comparable info on the older engines (2.0 petrol, 2.1 turbo diesel, 2.0 petrol turbo, 12 valve V6 and 24 valve PRV V6) as presumably they appeared in the S1 manual.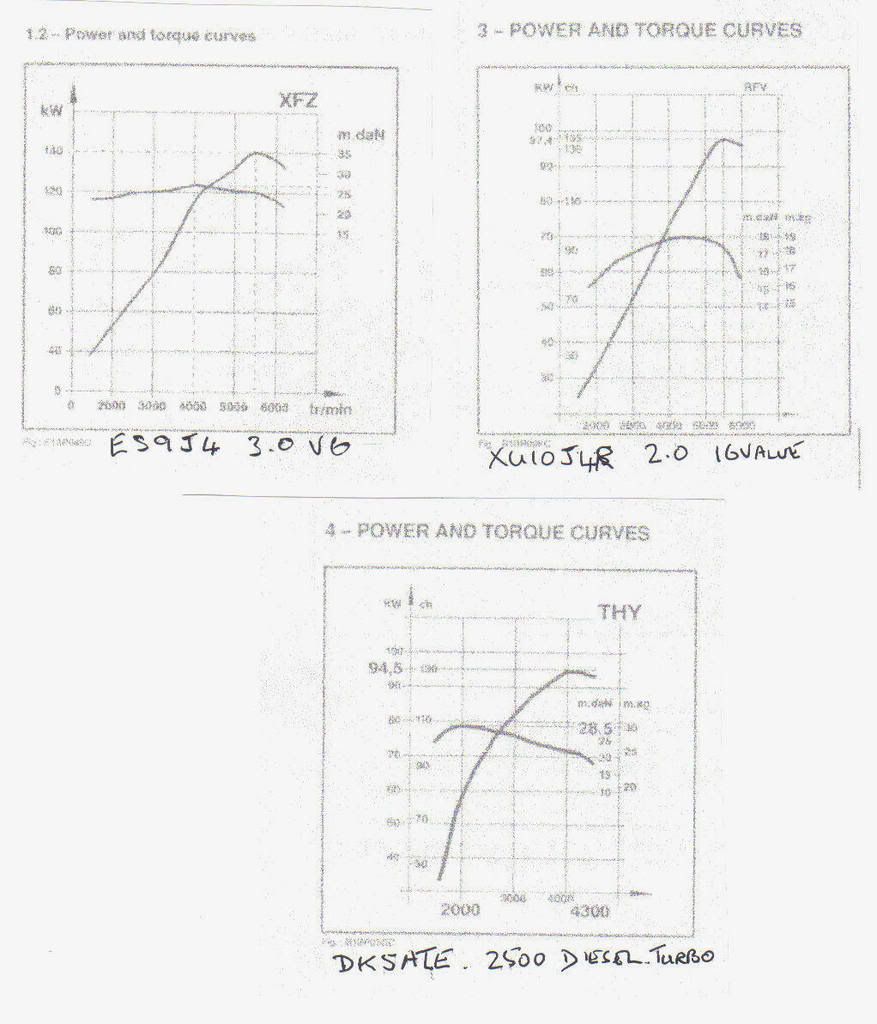 The French torque units are m.daN - meter.decaNewtons, easily transcrbed to SI units by multiplying by ten, so 21.5m.daN = 215Nm.
With the info provided by Jorgy9 we can make a reasonable fist of producing the figures for the older 12V engine. Sorry George, I can't associate torque with mass units so have converted to SI:
Torque at tickover (1000rpm?) = 196Nm, power at tickover = 27.5hp;
max torque (4600rpm) = 235Nm, power at 4600rpm = 152hp;
torque at max power (5600rpm) = 216Nm, power at 5600rpm = 170hp.
Compare these figures with the torque of the ES9J4 engine:
At or above 230Nm all the way from 1000 to 6000rpm; at or above 250Nm from 2500 to5500rpm.
Of course, to convert torque into road performance we need to compare overall gear and final drive ratios.
Derek